Automatic doors
Automatic doors
---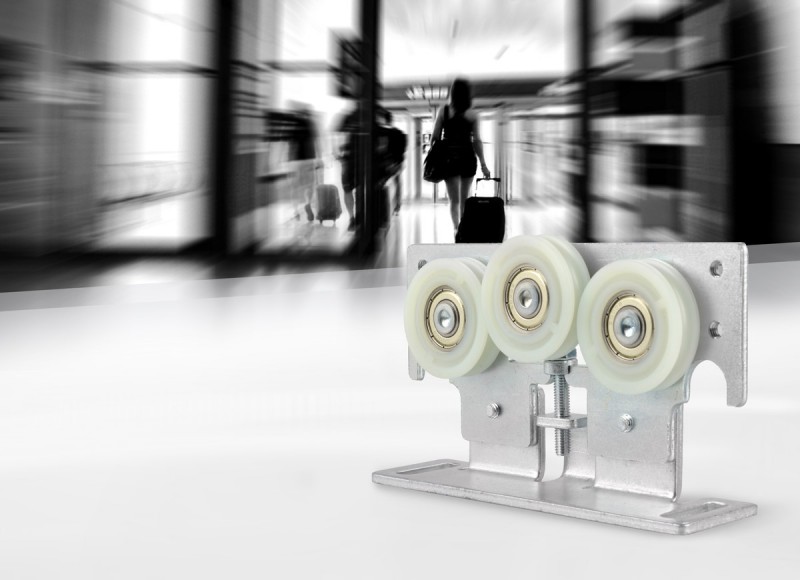 OMET Systems in Motion provides ball bearings coated with thermoplastic material and complete solutions for the sector of automatic doors installed, for example, at the entrances of companies, supermarkets, hospitals, hotels or airports.

Safety, resistance and silence are the characteristics guaranteed in time for producers in this sector. Often, doors are big and must fulfil several requirements concerning aesthetics, architecture, quality and operational in accordance with the regulations and safety.

OMET defines or develops the most suitable plastic materials to fulfil the customer's requirements according to the load that will have to be supported, the environment which the door will be placed in, and other variables. In recent years, many resources have been invested in the engineering department to provide the customer with "turnkey" carriages to be fitted directly on the door operator.

Continuous investments in research and development and collaboration with research institutions and global suppliers allow for wheels to be produced with coatings that are increasingly wear-resistant and suitable for reducing noise.
Do you know that...?
Automatic doors withstand thousands of opening and closing action every day and can even weigh hundreds of kilograms. A sliding quality system is essential to allow for high traffic to flow smoothly throughout the day, in a silent and safe manner, in accordance with current regulations.