Shower boxes
Shower boxes
---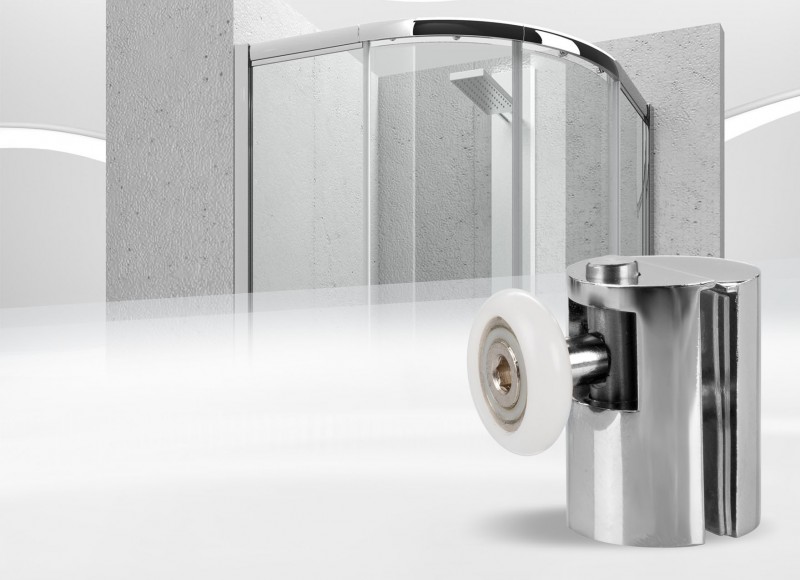 The bearing, which forms part of the components of the shower boxes, plays an important role although it very often goes unnoticed. OMET products guarantee perfect resistance to water and harsh environments, as well as having a stylish design: in fact, the company does not only produce bearings but all the components and accessories used on the shower boxes (trolleys, slide assemblies, handles).
Extreme attention paid to the external finishes and chrome parts make OMET products very attractive from an aesthetics perspective as well being extremely resistant over time. If the sliding mechanism is designed perfectly, it allows the panes to be easily released so as to facilitate cleaning.
Quality is guaranteed by using highly qualified materials: together with stainless steel and brass, OMET uses special materials, designed ad hoc in accordance with the customer's requirements. OMET also applies surface treatments that are resistant to liquids, washing and high humidity.
The possibilities are endless: OMET plans the most suitable design for every need, whilst ensuring maximum fluidity, silence and durability.
Products are not sold to individuals.
Do you know that...?
Sliding solutions allow you to install shower boxes in confined areas, thereby making the most of the space available. They are also cutting edge in design: several innovative sliding offers have recently been made, including the first shower sliding door recessed in the wall.