Lift doors
Lift doors
---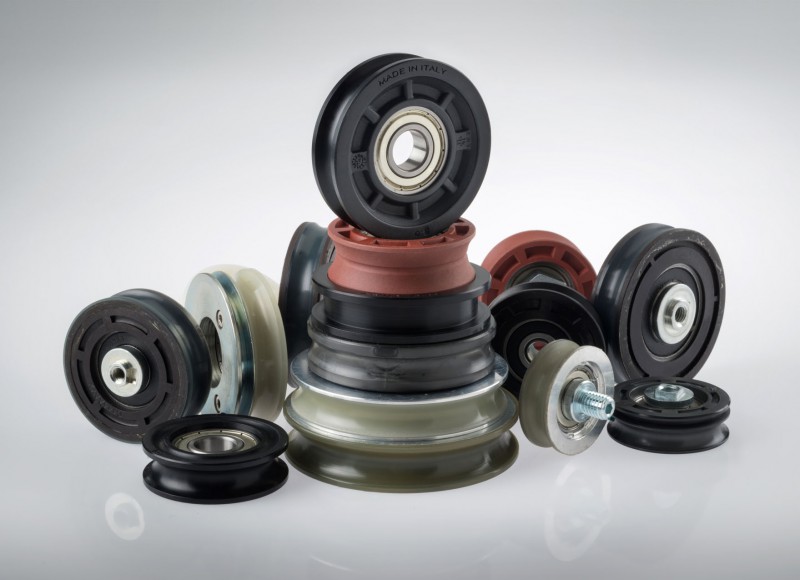 OMET Systems in Motion provides ball bearings coated with technopolymers and complete solutions for the lift door sector. Safety, resistance and silence are the characteristics shared by the entire range offered by the company.

OMET defines - or, if necessary develops - the most suitable plastic materials to fulfil the customer's requirements according to the load that will have to be supported, the environment which the door will be placed in, and other variables.

Continuous investments in research and development and collaboration with research institutions and global suppliers allow for wheels to be produced with coatings that are increasingly wear-resistant and suitable for reducing noise (PU-TPU).

Every OMET product is tried and tested individually. Thanks to specific equipment created by the internal engineering and collaboration with qualified external entities, the same conditions of use that the product will be subjected to are simulated, with wear tests and special tests performed on the application that the customer provides, in compliance with UNI EN 81-20 and 81-50.

Specific procedures allow for full traceability of every product and the checks carried out on it.
Download the new brochure 2022
Do you know that...?
One of the most irritating household noises, especially in buildings built in the 70s-80s, derives from opening and closing the doors of the lift. Insulation is not the solution in such cases: the key to solving the problem lies in the bearing and in its application: OMET coatings are designed and subjected to specific noise-tests to guarantee maximum silence together with high resistance, especially in high-traffic installations such as hotels, shopping centres and hospitals.