Counter frames for sliding doors
Counter frames for sliding doors
---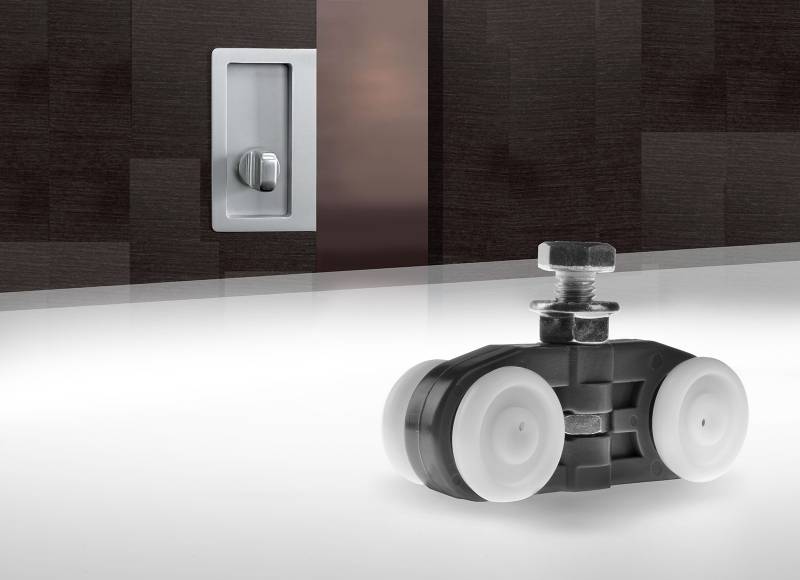 The sector of sliding doors and sliding partitions is one of the most important end markets for the products and "assemblies" of OMET Systems in Motion, which are highly appreciated because they guarantee unrivalled silence, fluidity and durability.

Thanks to their practicality and striking aesthetics they are increasingly common not only in offices but also in private homes, with design solutions made of glass, crystal and wood.

With a constant search for innovation and close attention paid to customer needs OMET can design solutions for every requirement: from a simple bearing to complex components in which the carriage is provided with the relevant accessories, such as stoppers, adapters or any other.

The special touch is added by the design, which makes OMET applications suitable for wooden doors as well as glass doors, in the most classic to the most modern structures.

The trolleys are made of galvanised steel, plastic, aluminium and zamak castings and can have different sizes and shapes that depend on the application and the type of window or door. They are assembled with the most suitable bearings.
Do you know that...?
The sliding partitions and doors derive from Japanese tradition: "shōji" are made from bamboo and rice or mulberry paper and separate the indoors from the outdoors in Japanese homes, whereas "fusuma" separate the internal rooms of the home and are painted differently